On January 8, 1855 a group of men known for their conservatism and fair dealing met at Ramsdell's Store in Norton Hill, New York to organize a town fire insurance association. Within two months, they drafted a constitution and by-laws for the Association, solicited subscriptions for insurance protection in the amount of $100,000 from 348 friends and neighbors and on March 9, 1855 the Association began operation. Losses were paid by a pro-rated assessment being levied against all members of the Association after a loss had occurred.
The Association was founded on the concept of neighbors helping neighbors in a time of crisis. In 1907 the "neighborhood" was extended beyond the original four townships to include all of Albany and Greene Counties and it was formally incorporated on August 27, 1910 as the Farmers Fire Insurance Association.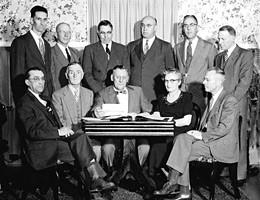 The decade of the 1940's brought about considerable change as the association  began billing all of its policyholders for the losses and expenses incurred in the previous fiscal year. On January 1, 1944 the Association entered into its first reinsurance contract with Guilderland Mutual Reinsurance Association. It began insuring losses caused by extended coverage perils, in addition to fire and lightening on June 6, 1951.  On June 30, 1960 the New Baltimore Mutual Insurance Association was merged into the Association and throughout the rest of the decade there were numerous changes in its operations.
In October of 1969 the name was changed to Eastern Cooperative Insurance Company, the licensed territory was increased to 10 counties, and its underwriting powers were expanded to include personal liability and inland marine coverages. This change paved the way for the company to write Homeowner, Mobile Homeowner, and Farmowner policies and in September 1971 the Company began writing commercial liability. In October of 1974 the Company began billing all policyholders on their policy anniversary date and by January of 1975 the Company had modified all of its operating procedures to mirror those of all other insurance carriers.
The 1980's were a period of growth as the Company moved away from depending upon its directors as its sole means of marketing its products and began appointing independent agents. On June 30, 1992 the Eastern Cooperative Insurance Company and the Schoharie and Schenectady Mutual Insurance Association merged to form Eastern Mutual Insurance Company.
Today, Eastern Mutual operates through its network of over 130 independent agents with over 200 separate offices spread across the central and eastern portions of upstate New York.  The Company is licensed in New York State to write Homeowner, Mobile Homeowner, Farmowner, Businessowner, Special Multi Peril, Landlord, Inland Marine and Fire policies.