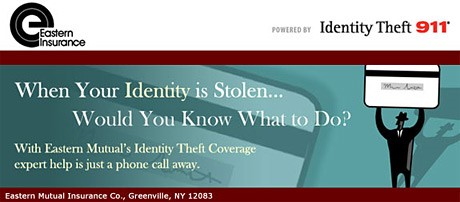 Most people panic and have no idea where to start
With the Eastern Mutual Identity Theft Coverage policyholders automatically have claims-free access to Identity Theft Resolution Services.
EXPERT HELP IS ONLY A PHONE CALL AWAY
If you have purchased Identity Theft Coverage and you suspect your identity has been compromised in any way, call Eastern Mutual's Claims Department at 1-800-367-3242 ext. 227 to be referred to a personal advocate from Identity Theft 911®.
Whether you have a full blown crisis or simply need to take preventative measures regarding a lost or stolen wallet, a fraud specialist is ready to assist you.
From the first moment you call, the specialist becomes your personal advocate, guiding you through the resolution process, step-by-step, until the problem is fully resolved and your good name is restored.
With years of experience dealing with law enforcement, government agencies, creditors, and credit bureaus, your personal advocate will cut through the red tape so you don't have to struggle on your own.
AWARENESS IS KEY
While no one is immune to identity theft, proactive awareness is your best defense. That's why Eastern Mutual brings you useful educational material to help you minimize your risk. "CLICK HERE" for access of up to the minute news alerts, in-depth articles, monthly newsletters and a wealth of preventative guidance.
IDENTITY THEFT RESOLUTION SERVICES INCLUDE
Unlimited access to a personal fraud specialist via a toll-free number.
Systematic notification of credit bureaus, creditors, collection agencies, etc.
Assistance in filing a police report, creating a fraud victim affidavit, and creating a complete file for investigative and claims-handling purposes.
Assistance in preparing the necessary documentation and making phone calls needed to resolve your case.
A 3-in-1 credit report and one year of state-of-the-art credit monitoring for victims.
One year of fraud monitoring for victims.
Optional credit-file freezes and interface with state indentity theft programs (where available).
Assistance with pro-active inquires regarding the potential misuse of your personal information.
A full year of active follow-up to evaluate the effectiveness of the resolution service and to detect any possible reoccurrence of fraud.
Ongoing news alerts, tips, and education at www.easternmutual-idtheft.com
OUT OF POCKET EXPENSES ARE COVERED
Identity Theft Resolution Services are only available to those policyholders who have purchased Identity Theft Coverage from Eastern Mutual on their primary residence. Coverage is provided for the named insured and all resident family members.
The endorsement provides up to $25,000 coverage for out of pocket expenses incurred while recovering from an identity theft incident. A $250 deductible applies and the premium charge is only $25. You do not have to file a claim to obtain Identity Theft Resolution Services. Of course, the coverage must be purchased before the identity theft incident is discovered.
To learn more about this valuable coverage or to purchase the coverage, contact your independent agent today.
Identity Theft Resolution Services are provided by: